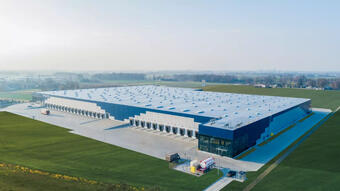 The developer has sold three parks to the investor: Panattoni Park Żory, covering 37,600 sqm; Panattoni Park Poznań XIII, spanning 42,000 sqm; and Panattoni Park Łódź A1, encompassing 56,000 sqm.
Michał Stanisławski, Head of Asset Disposition at Panattoni, comments on this significant transaction, saying, "Such a substantial transaction executed by a sector specialist investor signals that strong fundamentals of the industrial market make it an attractive target continuously appreciated by international institutional capital. Poland, situated at the center of Europe, is one of the most important logistics and industrial hubs. It presents dynamic rental and occupational growth due to local and global factors."
The acquired parks are fully leased, housing international players in sectors like logistics, FMCG, electronics, and DIY. Each facility has achieved a high standard of BREEAM certification, offering energy- and water-efficient solutions and promoting employee well-being.
In H1 2023, Panattoni was involved in two of the three largest transactions in the domestic industrial property market. The sale of the 160,000 sqm Wrocław Campus marked the largest non-divisional real estate transaction in Poland and the largest in the entire CEE region's industrial real estate market.
Robert Dobrzycki, Panattoni CEO & Co-Owner Europe, UK, and India, explains, "In a changing investment landscape influenced by factors like inflation, rising interest rates, and construction costs, the industrial real estate segment stands out as a promising option. Growing trends such as nearshoring, reshoring, and the expansion of e-commerce play a significant role in this. Warehouse, logistics, and industrial facilities are becoming critical infrastructure, strategically positioned closer to customers to secure supply chains. Poland, with its excellent location, is a preferred destination for long-term investors appreciating the potential of our developments."
Source: Property-forum.eu