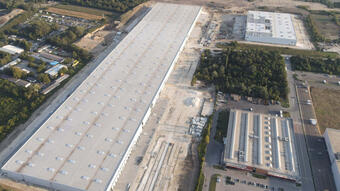 CTPark Belgrade City is located less than 10km away from the city center and only 10km from Belgrade Airport. With unit sizes starting from 2,500 sqm, the modern park is also ideal for small and medium-sized enterprises operating across a wide range of sectors including FMCG, pharmaceutical, high-tech, and e-commerce.
Petar Kolognat, Director of Business Development at CTP Serbia, said: "Mercata VT's new signing is a testament to this, as they move to new expanded premises at CTPark Belgrade City. This logistics hub provides occupiers with a unique city-center location and excellent highway and airport access, in a newly developed setting that meets the highest ESG standards, providing the perfect location for the new Mercata VT distribution center."
Željko Salatić, Logistics Director at Mercata VT, added: "We are happy to have secured space at CTPark Belgrade City, given its unique location close to the center of Belgrade, which will allow us to be closer to our clients, manage our business more efficiently and reduce our carbon footprint. Our close relationship with CTP and their understanding of our business gives us the confidence to expand within their portfolio, and we look forward to working with CTP for years to come."
CTP has launched multiple projects in Serbia and currently has 13 buildings across its portfolio with a total area of over 285,000 sqm, as well as 250,000 sqm under construction.
Source: Property-forum.eu