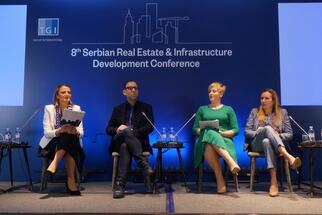 The conference was opened by State Secretary Aleksandra Damnjanović in front of the Ministry of Construction, Transport and Infrastructure of the Republic of Serbia.
The conference was attended by more than 250 guests who followed seven inspiring panels, with the central theme Sustainable construction and its future, good communication and cooperation. Respected speakers contributed to the success of this conference: Dejan Hadžić, Head of Insurance and Real Estate Unit at the Ministry of Finance; Chief Urbanist of the city of Belgrade, Marko Stojčić; President of the National Association of Valuers of Serbia, Danijela Ilić; President of Serbian Association of Appraisers, Uroš Vukomanović; President USSVP, Miroslav Višnjić; Ivana Štrbac, Head of Real Estate Valuation Department of the Republic Geodetic Authority; First Assistant Director of the Urbanism Novi Sad, Biljana Vrbaški; Head of the department for development planning of the city of Niš, Ivana Knežević Spasović; Director for Competitiveness and Investments in NALED, Dušan Vasiljević; President of PSP at Farman holding, Branislav Grujić;Managing Director of the Serbia Green Building Council, Dragana Korica; President of the FIC Infrastructure & Real Estate Committee, Mario Kijanović; Principal Banker, Property and Tourism at EBRD Vasilije Jauković; Professor of the Faculty of Architecture, Department of Urban Planning, dr Ksenija Lalović; Professor of the Faculty of Architecture, Department of Urban Planning, dr Danilo Furundžić; General Manager of Adventis Real Estate, Ervin Pašanović; Nenad Đorđević, Chairman of the Governing Board, Real Estate Cluster; Project Lead of the company Deka Inženjering, Dušica Gaković; Country Manager of the Realpad Software company, Uroš Đaković; Commercial Services Executive Manager of Novaston, Nikola Đogatović; Director for Design and Construction of Delta Real Estate, Katarina Gajić; Regional Director of Valuation and Development Advisory at CBS International Nenad Suzić, as well as many other valued speakers.

The sponsors of this year's conference were the Association of Appraisers of Serbia, the Council of Foreign Investors, the National Association of Appraisers of Serbia and the Association of Independent Forensic Experts and Appraisers.

The conference was supported by the companies Xella, Novaston and Realpad.

Media sponsors of the conference are Beobuild.rs, E2, Serbia Monthly.com, Kancelarijainfo.rs, Sasomange.rs.

The conference partner is Ovationbbdo.

The organizer of the conference is TGI Group International.